Submitted by lesa on 15 July, 2010 - 13:17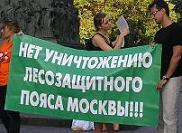 On 14 July, Clean Ponds near the monument Griboyedov held a joint rally of environmental NGOs in the protection of forests in and around Moscow. The main stated theme: against deforestation in and around Moscow, against the construction of Ring Road, against the construction of forest trails in Khimki Moscow - St. Petersburg, against the construction of a branch station in a reserved area Bitsevsky forest, against the barbaric mowing lawns in Moskve.Na picket will act activatedyou of the action groups and movements: Defenders of Khimki forest association "Garden city", "For clean air in Yasenevo, Defenders of the park Tsaritsino.
The protesters told that the issue of constructing toll road through a forest of Khimki (which will lead to significant cuttings) is still not removed from the agenda: Residents of Khimki lost a claim for cancellation of the RF Government in the Supreme Court.
Despite the warnings of environmentalists, the government also has not abandoned plans to build a Ring Road (Central Ring Road) with an extensive infrastructure (parking lots, shopping centers, etc.) in the Moscow area, which should lead to the destruction of forest belts, the capital and the deterioration of the already unfavorable environmental suburbs.Recently, ecologists have learned about plans to build about the proposed Ring Road wholesale markets - the "new Cherkizon. This will further increase the flow of vehicles, require large areas of felling trees.
Also picketers protesting against plans to cut down part of the authorities Bitsevsky park for the construction of "new Cherkizon" in the Moscow area Teply Stan.
In addition, the picket was attended by representatives of the initiative group of residents of the Moscow district Peredelkino.They said that the reserve "Peredelkino" ROC Patriarch Cyril was purchased land for the construction of villas. so say mestnyve residents. The Action Group calls on the authorities to verify this information and prevent illegal logging and construction.
A total of picket on July 14 was attended by about 30 people. Among the participants were people of different political views - liberals, socialists, anarchists, just indifferent citizens.However, since the event was non-political, the political symbolism of it was absent.
Source and photo essay: http://www.ikd.ru/node/13996